So, you have the good news, right? That's great! But are you finding it hard to sleep during the nights ever since you got pregnant? As it happens in pregnancy, you may not be able to find a perfectly comfortable position for you and that might lead to hours of sleep lost on a daily basis. Don't worry; there's a solution that you can try now and be as comfortable as you like when you sleep at night – the Today's Mom cozy comfort pregnancy pillow.
This all in one body pillow provides support to your head, neck, belly and back to make your nights comfortable and to allow you to sleep without having any discomfort. So, there is no need to buy multiple pillows to support your pregnancy and you should buy this one only as it gives you everything you need. Let's find out more in detail about the product.
Today's Mom Cozy Comfort Pregnancy Pillow Reviews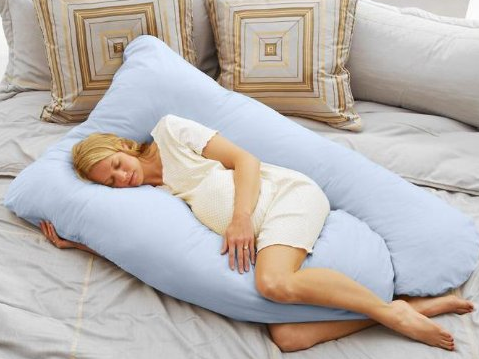 It is often hard to come up with something as good and comfortable as this maternity pillow from Today's Mom. The pregnancy pillow has been designed with just one motive in mind and that is to provide ultimate comfort to expecting moms. It gives you a feel as if you were sleeping on some cloud and addresses all the major concerns of expectant moms.
A major problem that mothers usually face with the pregnancy pillows is with their hard edges that dig into the shoulders and cause discomfort. The Today's Mom cozy comfort pregnancy pillow takes care of that quite efficiently with its curved, shoulder support design. It allows the pillow to nicely contour to your shoulder and offer a nice and soft sleeping experience.
Another big plus of this pillow is the lumbar support. The pregnancy pillow appropriately supports the weight of the expectant moms as they sleep. Belly support is one of the major upgrades that moms often ask for in their pregnancy pillows. And, this one gives them exactly what they are looking for so that their tummy can rest comfortably during the night and the baby feels comfortable.
This Today's Mom cozy comfort pregnancy pillow is also known for its big, square-shaped head rest. That's not always the case with other pregnancy pillows and they may have an oddly-shaped and flimsy area to rest the head on. The head support you get with Cozy Comfort pregnancy pillow is just like your standard pillow and it offers a nice and comfy experience.
The pillow also offers desired level of convenience with its removable zipper cover. You can remove the case anytime for washing purposes. Wash it in a machine and it won't give you any troubles whatsoever.
Today's Mom Cozy Comfort Pregnancy Pillow Review – Standout Features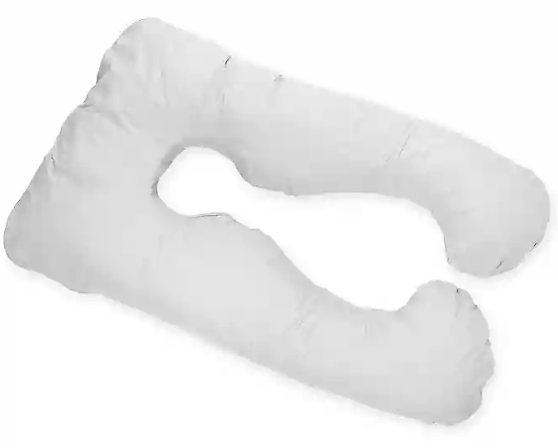 Being one of the best pregnancy pillows around, the Today's Mom Cozy Comfort Pregnancy Pillow has to offer a lot of amazing features. Let's highlight a few of them for you.
Comfort and Support
The pillow is made to nicely caress your body's natural curves and offer you the ultimate comfort you need in pregnancy. It can be used both for nursing as well as feeding as it offers all the support your baby would need. The total body comfort is what this pillow is meant for and you shouldn't compromise on that.
This pregnancy pillow has been designed to offer the support you need for your body while pregnant and ensures that sleeping becomes as comfortable as you'd like. It gives you a more restful experience while also allowing you to nurse your baby.
The U-shaped design featuring an open end makes it one of the best options available. There's a nice and unique curve on the inner side which is not there in most other pillows around. Featuring a zipper-cover, it is also fairly easy to wash and maintain.
Providing support for your head, neck, back, tummy, and even legs, you can't ask for anything better. The pillow is generously-sized and aligns well to your hips for ensuring that joint positioning stays neutral and various positioning options meet every need.
Hard edges around the shoulders are not a problem anymore with this Today's Mom Cozy Comfort pregnancy pillow. The edges won't dig into your shoulders and you can enjoy a comfortable sleeping experience. It takes care of the issue with a nice curved design.
Pregnancy does come with a lot of pains, especially in the back and hip area. However, this pregnancy pillow would relieve all your pains and keep you as comfortable as you'd like.
FAQs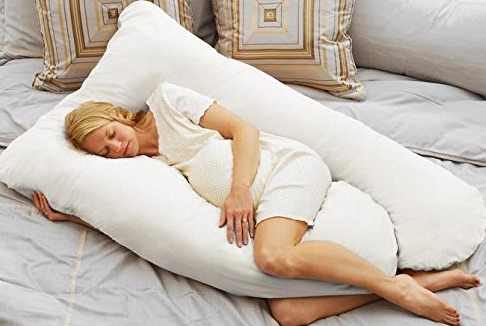 Are there any covers for the pillow?
Yes, it comes with removable cover that can be unzipped and washed.
Is the pillow covered in cotton or polyester? What's its thread count?
The pillow is covered in a 50% blend of cotton and polyester and comes with a 200 thread county.
Does it have any extra cover?
No, the pillow only comes in a single brown cover. It can be taken off easily and washed anytime.
Is it only 1 pillow or has 3 inside a single case?
It is only 1 pillow inside the case.
What is the length of this pillow?
It is around ~54" in total. Around ~18" is dedicated to its head rest portion while the remaining ~36" goes into the leg/body area.
Lack of sleep is often a concern for the pregnant moms and it's the bodily changes that make them uncomfortable while they sleep. However, the use of this Today's Mom cozy comfort pregnancy pillow can help with any kind of body pains and sleeping discomfort. The pillow has been designed specifically for such use and gives expecting moms a comforting experience that tailors to their body shape and provides comfort in all the right areas. So, if you are pregnant or planning on it, investing in this pregnancy pillow will never be a disappointment for you.