You always want to find yourself a nice, comfortable, and relaxing position when you're pregnant but it's all the more difficult. That's particularly true when you want to sleep each night but are unable to do so because of the weight that you have put on. Lounging or sitting comfortably can be a challenge as well and there are times often when you find it hard to achieve comfort.
Don't worry; all this happens to every pregnant woman and the solution is a perfect Boppy Pregnancy Pillow Wedge which is meant to offer all the support your body needs in pregnancy. Let's discover the features of this pregnancy pillow in detail.
Boppy Pregnancy Pillow Wedge Reviews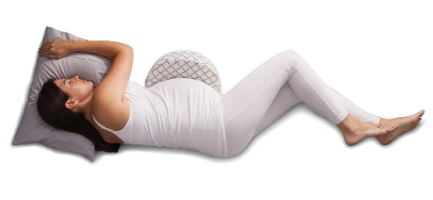 Boppy is a renowned name and it's been around for some time, developing products that offer expectant mothers and their babies all the comfort they need. The products are also sold through the trusted retailers and you can find them easily everywhere and that's exactly the case with the Boppy Pregnancy Pillow Wedge too.
According to the Boppy pregnancy pillow wedge reviews, the product has a simple design and it really is one of the most versatile products around. Being small in size and very compact in nature, you can take it anywhere you like and it can also work alongside other different products as well to give you a customized experience and perfect pregnancy support.
The pillow can be used as a belly, leg, and back prop, it makes a perfect choice for those traveling and in need of a pillow that is a bit less than the full body pillow. It is made with high quality materials and is meant to last the test of time. Cleaning and routine care isn't a problem either.
Boppy Pregnancy Pillow Wedge Review – Standout Features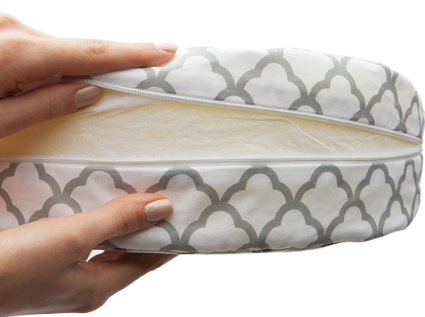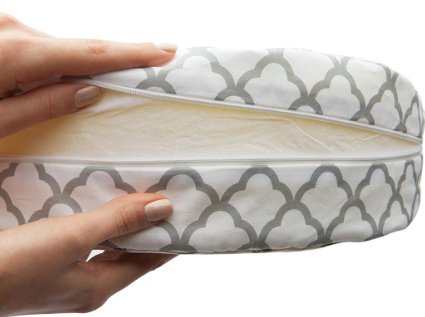 The Boppy Pregnancy Pillow Wedge is a feature-rich product that is meant to make your pregnancy as comfortable as you'd like. Here we have a list of some standout features that this product is known for.
Tapered Loft
With tapered wedge shape, the pillow allows you to use it from either side and get the desired level of comfort and support. It measures 14×12 inches in size and it is 4" tall. Even though, that may not be too much, the unique shape of the pillow has been designed to offer both back and belly support during the night, for keeping the long ligaments, as well as other softer tissues, from getting over-stressed.
High-Density Foam Filling
This pillow has been designed with high-density polyurethane foam to offer a firm but slightly contouring top to rest your body on. It will effectively fill the areas under the belly, legs or back to give you the uplifting support you need. It features HD foam which is meant to provide firm comfort while not compressing much underneath the weight or shifts in your body movement.
The pillow is built to form a wedge with its thinner end being able to fit right next to the body for providing a nice, gentle slope to the belly, back, and even the hip for comfortably resting upon it. You may even be able to use the higher loft for holding the heat or ice against the back as well as hips. In fact, it can simply be a perfect backrest to give you some extra support when you need it.
With its size, it is also useful in helping you prop up the existing pillows and that's particularly helpful for those experiencing heartburns or, maybe, if you need additional support below the arm while nursing.
The shape is perfect for using the pillow between the legs when at rest. As you lay on the back, placing this pillow underneath the knees can be helpful in easing tension right throughout the lower back.
Washable Zippered Slipcover
The zippered slipcover of the pillow is washable and feels really nice to touch as well. The cover also makes sure that your pillow stays fresh and is always ready-to-use. The zipper easily spans the entire length of its curved edge to make it easy to put it on and off. Besides, it also allows you to easily access the foam whenever needed. There are well-stitched seams too and there is reinforcement stitching on the inner side to give you a nice and flat surface on top.
It is made with 5% spandex and 95% cotton and gives you a nice and soft surface which does not slip too easily. It gives you some traction against the sheets as well.
Unfortunately, the foam is not washable but it can be spot cleaned easily whenever required. The foam's cellular structure might break down due to the liquids, so in case of spills, blot it up quickly. All that is quite easy to do and you can use some gentle spot cleaning solution for treating any stains that your pillow might receive.
FAQs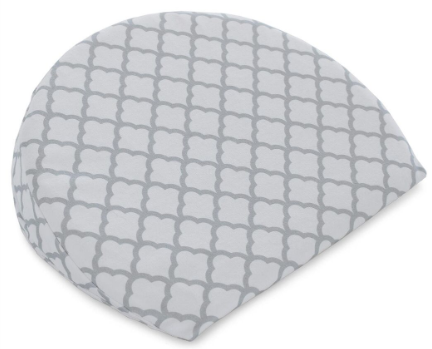 What material is the pillow made off? Is it memory foam?
Yes, the Boppy Pregnancy Pillow Wedge has a firm and hard foam insert to offer support you need for your back and the bump.
What kind of foam is the cushion made of?
It is polyurethane foam. It's firm but a bit soft too.
Is the cover 100% cotton or other material?
It is 95% cotton and 5% spandex.
Will this work for sitting in office chairs during the day?
Yes, you can very well use it for that purpose.
Is the pillow itself waterproof?
No, its foam is not waterproof. You can only spot clean it. The cover can be removed and washed though. For all the support you need in pregnancy, the Boppy Pregnancy Pillow Wedge makes a perfect choice. It is made with high-quality materials and features effective supportive design to cover for all your changing needs throughout the 9 months of pregnancy.