It is not always easy to sleep comfortably through the night during pregnancy. You toss and turn, and then repeat. And, amidst all that, you lose hours of precious sleep too. You have a lot of other pregnancy woes to deal with and this unrest can always add to it a great deal. To address all these issues, the Hiccapop pregnancy pillow wedge turns up as one of the most popular products around. With so many amazing reviews, and being among the top sellers, this pillow wedge is recommended even by the medical professionals.
Hiccapop Pregnancy Pillow Wedge Reviews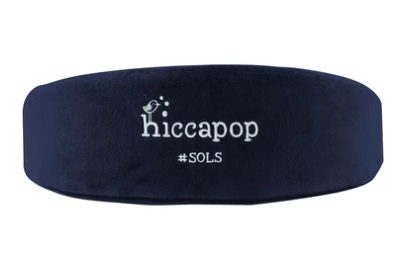 This pregnancy wedge pillow looks more like any standard wedge pillow in rounded shape – which it is in so many ways – but it does come with some advanced design features making it more helpful for the moms-to-be. It has a dual-sided design with which you can adjust it to your desired comfort level depending on the trimester you are in. The pillow is quite compact and versatile too.
With its classic rounded shaped wedge, the pillow's tallest point remains at 4.5". It is filled with solid ventilated foam and what sets it apart is the dual-sided firmness. One side of the Hiccapop pregnancy pillow wedge features softer memory foam while the other side has much firmer foam. Besides, its dimensions of 15"x13.25" make it compact enough for travel and the travel cover makes it actually possible as well.
The overall design of the pillow is pretty simple. You can always unzip its cover and remove it for cleaning purposes. Don't worry; you can slip it back on pretty quickly after a wash.
The Hiccapop pillow wedge can be used in so many different ways. Whether you want to use it behind the back or sit on the pillow, it won't disappoint you. It can also be wedged behind the back or underneath the belly as you sleep to get extra elevation as it can be helpful in relieving discomfort and swelling. You can also place the pillow between your knees and keep the spine perfectly aligned too.
The pillow design features small perforated holes all through the wedge to encourage airflow for reducing any moisture buildup and helping you control the temperature.
It is designed perfectly to ensure optimum mobility as well. Your sleeping wedge can travel with you anywhere, whether it is from one room to another or to another town. The travel bag that accompanies your wedge pillow makes carrying even easier.
Hiccapop Pregnancy Pillow Wedge Review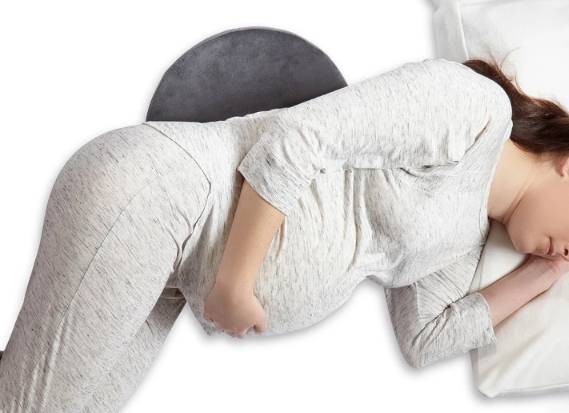 Let's have a rundown of features that you can expect from this Hiccapop pregnancy pillow wedge. There is a lot on offer and you would definitely love giving it a try, at least.
Dual-Sided Design
You want it firm or soft? It's you who decides. The 2-sided design of the pillow is perfect for expecting mothers during all the three trimesters of their pregnancy. One side features soft, deluxe memory foam while the other has support foam which is a lot firmer. So, when you see a shift of moods, you can simply flip your pillow wedge over and regain ultimate comfort.
The pillow offers appropriate belly support that reduces swelling in the legs, feet, and hands. It actually relieves tension in the back and any stress associated to it. Just put the wedge under the belly, behind the back, or between the knees, and enjoy a comfortable time sleeping or relaxing. It will even help you get rid of the leg numbness and nerve pain as well.
It comes in a plush, super-soft cover which is also quite durable. It is machine washable and doesn't give you any cleaning hassles. The material with which the cover is made seems to offer all the pampering you need in the third trimester of your pregnancy. You'd love having a touch at it and will enjoy the comfort it brings.
Airflow Ventilation Technology
Featuring CertiPUR-US foam and perforated layer of foam with airflow ventilation technology, the pillow remains cooler and comfortable as you sleep. The foam doesn't feature any PBDEs, TCEP or TDCPP flame retardants, lead, mercury, formaldehyde, heavy metals, and the CFCs. It's been tested for performance, emissions and durability and is certainly a product worth investing in.
The compact design of the pillow wedge makes it a perfect choice for you if you keep moving all the time. Take it from the bedroom to your couch or the chair you love for napping, it won't give you any challenges. It is way more convenient than other bulky products on the market.
FAQs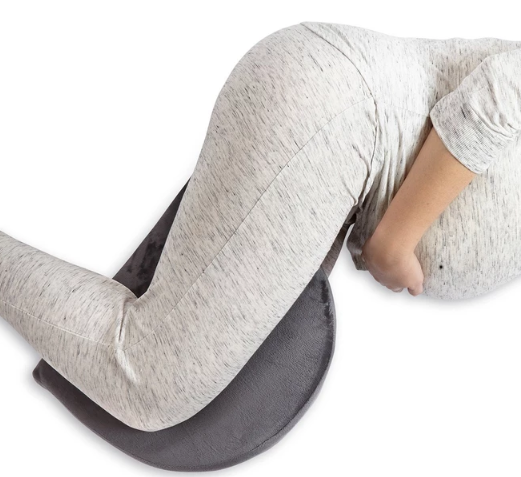 Should I prefer this over a pregnancy body pillow?
Well, you can try both but this pillow will definitely offer you much more than its counterpart. It's easier to navigate during the night. You can also use it with your regular pillow.
Does it make you feel hot?
It is a comfy pillow wedge and its perforated design makes sure it stays cool all the time.
What material is the foam made of?
It's a CertiPur-listed and certified PU foam. You can't find a safer alternative to this anywhere else.
What material is the pillow made of?
It is foam that is covered in the soft fleece material.
What are the care instructions?
Both the pillow cover and the foam are washable. It is strongly recommended that you place it in the laundry bag for protecting its zipper before washing it in the cold water. Keep the wash cycle delicate too. Let it air dry after a wash.
If you are looking for an alternative to your typical full body pillow, this Hiccapop pregnancy pillow wedge is the way to go. It comes with loads of amazing features that will make your pregnancy comfortable and will also allow you to sit and sleep in your desired positions. Compact design and advanced airflow technology make it a preferred choice for expecting moms.