When you get pregnant, that rosy glow on your cheeks is quite noticeable. However, such glow doesn't come alone and there are a lot of discomforts that come along as well. Even though you need to get ample sleep to ensure good health for both you and your baby, but the unrest which comes with pregnancy hardly lets you get a full night's sleep. Don't worry; the Queen Rose U-shaped full body pillow has got you covered if you are going through a similar phase too.
The Queen Rose pregnancy pillow comes with total body support and it effectively wraps around your body to provide the supportive comfort you need during pregnancy and afterwards as well. Let's have a look at some of the highlights of what this wonderful body pillow has on offer.
Queen Rose U-Shaped Full Body Pillow Reviews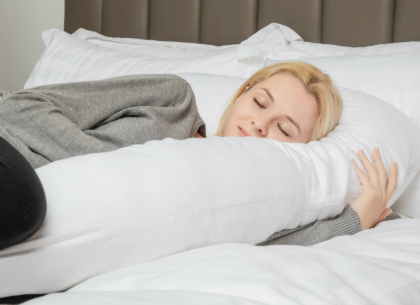 The focus of Queen Rose is solely to provide comfortable sleep and this u-shaped, full body pillow is made specifically to offer exactly that to the expectant moms. Even though the main idea behind this pillow design is to provide supportive comfort to the pregnant mothers, it works equally well for anybody who needs help with back or hip pain, fibromyalgia, sciatica, etc. It can even be useful for you if you're recovering from surgery or an injury.
The Queen Rose U-shaped full body pillow comes in a couple of sizes and you can easily bend, fold, wrap, and otherwise adjust it to your liking so that it fits the specific needs you may have. That's possible with the help of its zippered design which allows you to remove some of the filling as preferred. As a result, the pillow becomes quite a versatile option and can be put to a range of uses not only for pregnant moms but also for everybody else.
If you are pregnant, the pillow allows you to meet the unique physical needs you may have for nourishing and growing your baby with every passing day. It offers exceptional comfort, quality rest, and pain relief. The pillow is also very flexible and its u-shaped design can be adjusted to different positions for watching TV, reading, or baby nursing. It can be your single alternative to multiple pillows and you can use it effectively to support different parts of the body.
The pillow can even help you with relieving swelling on the legs while improving blood circulation to give you the best sleep positioning depending on your physical needs in pregnancy.
Finally, to give it a more neutral appearance, the pillow also comes in various colors. In fact, that's what puts this pillow a step ahead of the competition.
Queen Rose U-Shaped full body Pillow Review – Standout Features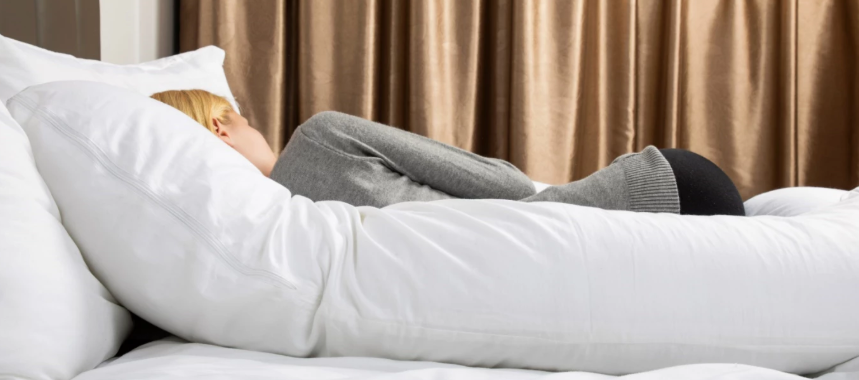 If you want a glimpse at the features that make Queen Rose U-shaped full body pillow a class apart, here we have listed them for you. 
Unique Ergonomic Design
The pillow has been designed specifically to give contoured support to your body so that your sleep is not affected throughout the pregnancy. The unique design follows your body shape and this over-sized U-shaped pillow is long enough to provide support to your body on both the sides. In fact, it can be used as the bed pillow as well.
The pillow has been used effectively for nursing, pregnancy support, and drug-free pain relief for those suffering from sciatica, fibromyalgia, congestion, gastric reflux, and carpal tunnel syndrome. Besides, it is meant to offer support to your belly, sides, back, head, feet, and knees.
The pillow is meant to offer the support and comfort you need in pregnancy with its unique design that follows your shape in pregnancy. Both in feeding and sleeping, it makes things simple and comfortable for you.
Versatile and Multi-Functional
The versatility of this product is such that you can use it for a range of different purposes. It gives you a comfortable position to sleep, nurse, read, and watch TV. With its total body support, you can expect a painless pregnancy and much better sleeping experience.
Cleaning is Never a Hassle
The Queen Rose U-shaped full body pillow comes in a removable cover which is machine washable. So, whether you spill something on it or it just needs regular cleaning, you won't face any troubles whatsoever.
FAQs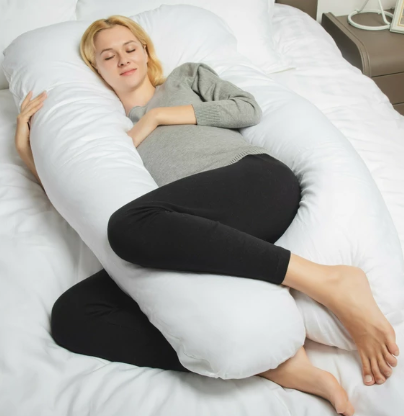 Can you sleep comfortably with the pillow upside down?
Yes, that is very much possible. Sometimes, however, it depends on the height of the user too.
Does it come with a pillow cover?
The package includes a removable pillow cover which can be removed and wash-cleaned easily. You may not have to buy one separately.
Does the pillow dig into your shoulder/neck when sleeping?
No, it doesn't dig into the neck or shoulder. You can use it as your regular pillow and it would be comfortable even when you lay at an angle.
Does it offer support for the bump in pregnancy?
Yes, the pillow is tailor made for pregnant women and it offers the support you need for your baby bump as you sleep.
Is it a really soft pillow? I suffer from Fibromyalgia and need something very soft.
The pillow is firmer than being soft and can't be compared to some goose down pregnancy pillow. However, you can always open up the zipper on top of the pillow and get some filling out of it. As a result, it will become softer and you can adjust it to your liking.
Pregnancy is a special time in the life of every woman and you would never want to compromise on your comfort at all. A special product like Queen Rose U-shaped full body pillow is a must-have to give you full body support and comfortable sleeping positions. It can even serve you after pregnancy as well. So, it really makes a perfect investment that pays off well.