If you ask women, most of them would say that their pregnancy turned out to be the most exhausting and difficult time in their lives. When pregnant, women face issues like sleep deprivation and their sensitivity to pain increases a lot. They look for solutions which help make things better and ensure that their pregnancy is, at least, bearable for them. If you're also pregnant and in search of such a solution, Restorology full body pillow should be a perfect choice for you. It's a preferred choice among women these days and you can use it even when you're not pregnant.
The Restorology 60-inch, C-shaped maternity pillow is long and wide and can serve the needs of most women quite effectively. Here we have detailed every single aspect you need to know about this super-comfortable and extra-large pillow.
Restorology Full Body Pillow Reviews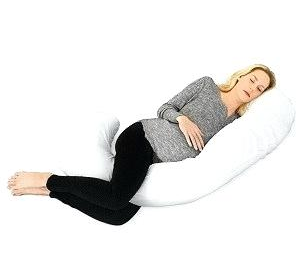 The Restorology full body pillow comes with a special design that is meant to follow your body's natural contours and offer full body support. The pillow can easily replace multiple pillows and save you valuable space on your bed.
Providing support to your head, back, as well as belly all the time, the pillow can compete any high quality pregnancy pillow that is meant to make your pregnancy comfortable. With its unique shape, and support it offers to your back and head, the pillow can relieve and even prevent sciatica, lower back pain, and heartburns. Besides, it is among the least expensive pregnancy pillows available which offer unparalleled full body support.
If you are to trust the official site of the brand, the pillow is designed just for "You." It means it's for everyone, be it women, men, or children. Yes, it can be used even outside pregnancy and can give support to your body as needed.
Most of the pregnancy pillows available today come in a U-shaped design, which can be uncomfortable for some. In case of Restorology full body pillow, however, you get a C-shaped design which allows it to softly hug the entire body. Besides relieving common pains and conditions in pregnancy, the pillow also helps with sleeping disorders too.
The pillow even offers nursing support and that means you can't just rest on the pillow, but can also use it for placing your baby during breastfeeding too. Its cushion has enough elevation for accommodating your baby and holding them close to the breast so that they can feed easily. And, when the nursing time is over, you can have restful sleep while your baby stays on this full body pillow. So, the product will still be effective for you even after you have given birth and don't need belly-support anymore.
The zippered cover can be removed easily and you can clean it any time without any hassle. It is machine washable and you must tumble dry it to ensure easy care.
Restorology Full Body Pillow Review – Standout Features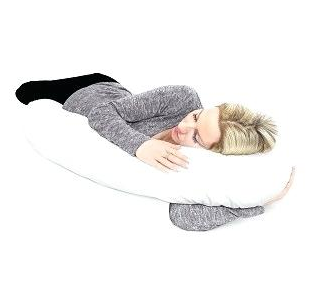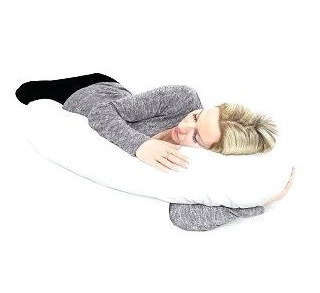 So, what you can expect from this Restorology full body pillow? There are various great features on offer and we have listed a few of them below.
Follows Your Natural Body Contours
The pillow has been designed specifically to follow your body's natural contours and shape to give you full body support. You can determine any position in which you feel the most comfortable in pregnancy and sleep in it to relieve pain while your pillow helps with a restful sleeping experience. The pillow comes with medium firmness level and is soft as well as supportive all at the same time. Even though it is specifically crafted for the pregnant mothers, it can work just fine for everyone else too.
Can Replace Multiple Pillows
When you have this full body pillow with you, there is no need to have multiple pillows around you to support different parts of your body during pregnancy. It gives support to your belly, back, and head at the same time.
Providing full body support, and exactly where you need it, the pregnancy pillow can help relieve all the pregnancy-related pains. The pillow comes in a unique shape that helps prevent heartburns, lower back pain, and sciatica.
The pillow comes with a nice zippered cover which can be removed anytime for cleaning. It is machine washable and you have to tumble dry it for proper care.
The pillow is equipped with top quality foam and offers medium firmness level. That means you won't be up against something too hard or way too soft.
FAQs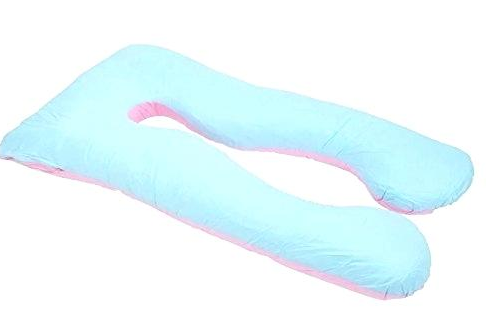 What material is used in the cover?
It is cotton. Though not super-soft, it is still soft enough for use.
I'm pretty picky about my normal pillows. How firm is it for your head? I get headaches easy.
Well, it is semi-firm. However, being flat it doesn't give you too much of elevation. You may still need to use some bed pillows if you like extra elevation.
I change positions a lot at night, would this work well sleeping on either side?
Yes, you can sleep on both the sides of this pillow. However, it's big and can be a bit tricky for maneuvering.
What are the dimensions of the pillow?
When loosely curved, the pillow measures around 50-inch x 30-inch from the outer side. When being used, however, it conforms to almost all the adult body sizes.
I'm pretty short, 4' 10". Would this still be ok with me being so short?
The product works perfectly for all adult body sizes. It will fit to the natural body contours you have even if you are too short in height. So, if you are facing issues that are common in pregnancy and are looking for something that offers full body support, the Restorology full body pillow is tailor made for you. Buy one today and give your body the support and comfort it needs throughout your pregnancy, in fact after that as well.